Directions for PDF Forms
When opening PDF forms select "Highlight Existing Fields" located in the top right corner of the form.  An example of this can be seen on the purple bar below.  When finished click the "Print Form" button.  Saving these forms is not an option.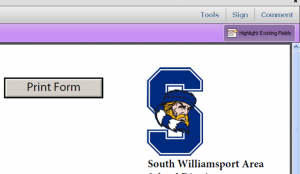 ---
General Directions
The attached forms are for employee use.  Use the links at the right to access the appropriate form.  Complete the form online prior to printing the forms out.  Submit a hard copy of the completed form as directed.  If you have specific questions on completing the forms, please contact the office.
---
College Credit Request Form
Professional Development Forms
Professional Development – Employee Requested
Professional-Development-Request ADMIN REQUESTED
Reimbursement Forms
Reimbursement Form – Rev 2/2021
Personal Leave Forms